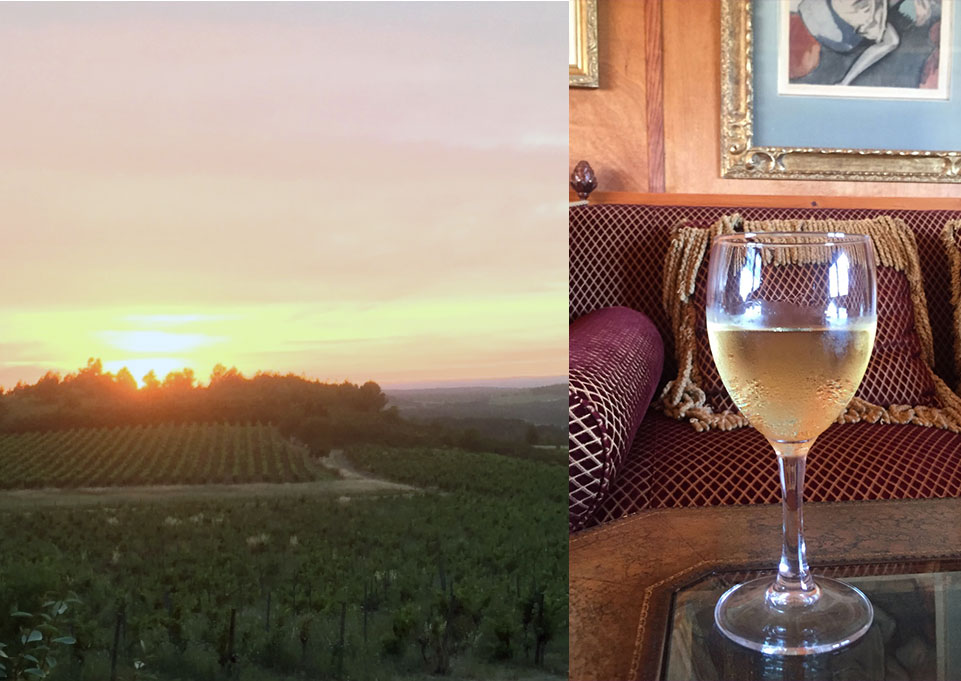 As I continue to work from southwestern France this summer, I've planned a few mini vacations to see some places that have been on my radar for some time. The medieval walled city of Carcassonne was on that list and I just returned from a wonderful wine and dine weekend there (when in France, n'est pas?) at the O'Vineyards winery.
You should know I have always had a passion and deep appreciation for the finer points of gastronomy, which includes of course good wine. I also love great branding, and never tire of seeing one being its bold, brilliant self and thriving out in the wild. Sometimes these two passions converge and this is just what lead me to the subject of my post today.
Mind you, I didn't set out on this vacation with any intention of writing a post on this. I had actually sworn not to work on the trip at all (I did pretty well overall, thankyouverymuch). However, as our stay progressed, we were more and more bowled over by our entire experience with this boutique winery and B&B. They won us over at every turn by simply being completely and unabashedly themselves. And isn't it just that kind of authenticity that is at the heart of every truly soulful brand?
Relaxed conversation, personal attention, warm unpretentious hospitality and thoughtful surprises flowed easily and happily our way during our entire visit. As we rounded our last day there and the highlights of our visit and I thought to myself, "this is an ideal example of a brilliant brand – a brand with soul!".
With that idea in mind I mentally went through the highlights again, however, this time through a more professional lens. I was reminded that when a business is really clear about who they are and what they stand for – and communicate that through every channel of what they do – it's so easy to clearly feel and know what they're about. When that happens, they become irresistible and just like a magnet, the perfect people seem to be drawn effortlessly to them like moths to a flame.
I found could easily jot down the main qualities of their brand because these descriptors were present across the board in all the various touchpoints of their brand:
---
Touchpoint
A touchpoint is any interaction a person has with your brand before, during or after they do business with you. It can be physical, sensory or vibrational. When someone visits your website, meets with you face-to-face or picks up your business card, these are all examples of touchpoints. Collectively every touchpoint a customer has with your brand creates an overall experience for them.
---
Generous
Their generous spirit emerged across the board. They gave joyfully and amply of their wine, their time, their food, knowledge, attention and service. The grounds and accommodations were spacious and welcoming. Did we want some wine to take with us? Breakfast on the terrace? A surprise cake magically appeared after we mentioned in passing that we were celebrating belated birthdays. In every interaction we felt so generously cared for.
Renegade
This is a winery that bucks trends and isn't afraid to go against convention in a largely conventional market. For winemaker and co-founder Joe O'Connell, trusting his instincts has paid off even when he was told he would never succeed with his ideas. When someone says "that can't be done" they seem to say, "Oh yeah? Just watch me" with a sparkle in their eye. With ample respect and recognition for their wines now, it's a trait that continues serving them well.
Passionate
From every member of their family-run business, their passion for what they did was palpable. Following their passions got them where they are – they bought this vineyard and started making wine with little more than a dream and have flourished greatly because of a tenacious work ethic fueled by a fierce fire in their bellies. The kinds of nuanced, spontaneous and thoughtful touches that graced us throughout our stay touched us deeply.
In my experience, this cannot be fabricated by just going through the motions – it absolutely must come from the heart. When passion for what one does is being expressed in this way you cannot help but feel it. It has the ability to touch you and in those moments, intensely loyal connections can be forged. These can become the fine folks who will sing your praises to the ends of the earth.
Brain Tickler: Can you think of a brand you feel this way about?
Genuine / Down to Earth
No stuffy pretensions here. As soon as we walked through the doors we felt easily and instantly at home. Conversation was easy and convivial as the whole team dined right along with us and other guests each night. Their brand design also reflects this same feeling in more contemporary design and wine names that have a touch of good-natured cheeky humor to them. The sense overall is relaxed and approachable.
Eclectic / Creative
During our tour of the winery and being introduced to each of their wines over the course of our stay, it quickly became apparent that most of their biggest successes came about because they were willing to take creative risks, play outside the box and turn ideas on their heads. The question, "What would happen if instead we tried this?" (a great questions to ask often in any business) seemed to be the inquiry that lead to all kinds of new approaches and surprising "ahas", and I smiled knowing I was sipping the delicious, liquid result of that from my glass.
This creative spirit is also well mirrored in their packaging which often draws inspiration from modern and abstract art, and in the winery itself where a highly eclectic collection of contemporary art graces literally every wall.
Our experience at the table was no different as an abundance of soul-satisfying delicacies emerged from the kitchen at every meal, thoughtfully matched to each wine (by co-founder and Joe's wife, Liz O'Connell and supported by the family's next generation, Gilbert and Darren). Although each course showed a respectful nod to tradition, true to their innovative spirit they always managed to surprise us with something unexpected and beyond our expectations. This had the wonderful result of us joyfully anticipating every meal, excited to see what new and unique delight awaited us!
Brain Tickler: Can you think of a brand you love where you've felt like, "I can't wait to see what they come up with next!"?
Consistent
Throughout their marketing they use the "O'" of their O'Connell name (O'Syrah, O'MG, O'Wines) and the look and feel of their packaging stay true to their brand while still allowing each label to have its own personality. The architecture of the winery and main house reflect their more modern tone as well versus a more traditional chateau.
Every exchange we had with each member of the team felt totally consistent, seamless and genuine. There was great communication before and after our visit with on-brand welcome and post-checkout thank you emails, and during our visit with checking in to make sure we had what we needed and were happy.
In a good brand, all its core qualities (known as brand descriptors in the branding world) are laced throughout every aspect of how a business conducts itself and that is certainly true with O'Vineyards. Not only in the products and marketing, but in the way they interact with their staff, clients and vendors. The tone and soul of their collective business is intoxicating in the best way!
---
Consistency
Consistency is one of the hallmarks of every strong brand. When your brand qualities are inconsistent it can erode trust between you and your customer. Every consistent thread that runs through a brand builds trust that you are who you present yourself to be. Like in life, sometimes it is the seemingly small things that can make the biggest difference.
---
I share these insights with you to help you see that a brand is not just your product or service, or your marketing, or your logo, or a mission statement. It includes all those things, but it is more. It is a gestalt of every aspect and touchpoint.
When someone interacts with your brand, can they easily get what you're about? How consistent is the look of your brand with your marketing, mission and the way you work with your clients?
I know for myself I'm always refining and upgrading facets of my brand to keep things in overall harmony as it evolves along with my personal growth and the growth of my business. Revisiting key points of your brand (like with my Soulful Brand™ Snapshot) can help keep you on track and help you pay attention to what's evolving. Our brands are living breathing creations! What is your brand communicating?
If yours could benefit from some clarity or you're feeling a shift happening in your business and your brand isn't quite fitting you anymore, why not apply for a short Soulful Brand™ Clarity Call with me? It's free!